After having a few issues with my electric smokers' wiring and controls I started researching how I could bypass all the built in controls and devise a way to control the smokers temperature as well as monitor temperature of both the cabinet and the meat. I wanted to be able to control and monitor tempuratures, as well as get notifications of when food reaches the desired IT. After an extensive google search I came across the Heatermeter which with some minor tweaks would work but was going to cost way more than I really wanted to spend. While going through some of the forums I ran across NB's thread which got me here.
I was able to order all the major components for this project from Ali Express. Shipping takes a few weeks to a month but you can't beat the prices.
Here is the parts list:
1x 
2PCS micro USB Interface power switch interface Bread Board 5V power supply module exploitation Board
3x 

Type Thermocouple K 6 "(150mm) with Probe 90 Pointed & Tip for BBQ Smoker Bend
1x 

D1 mini - Mini NodeMcu 4M bytes Lua WIFI Internet of Things development board based ESP8266 by WeMos
1x 

1pcs solid state relay SSR-25DA 25A 5-24VDC TO 24-380V AC SSR 25DA,6-20mA
1x 

New Pro Mini Atmega328 3.3V 8Mhz Replace ATmega128 For Arduino Compatible Nano ATMEGA328P-AU Module
1x 

MAX6675 K-type Thermocouple Temperature Sensor Temperature 0-800 Degrees Module
I already had a breadboard and jumper wires so it was just a matter of wiring everything up and following NB's instructions.
Here is a picture of the components wired up. I am just testing as of now so I'm only using 1 thermocouple module.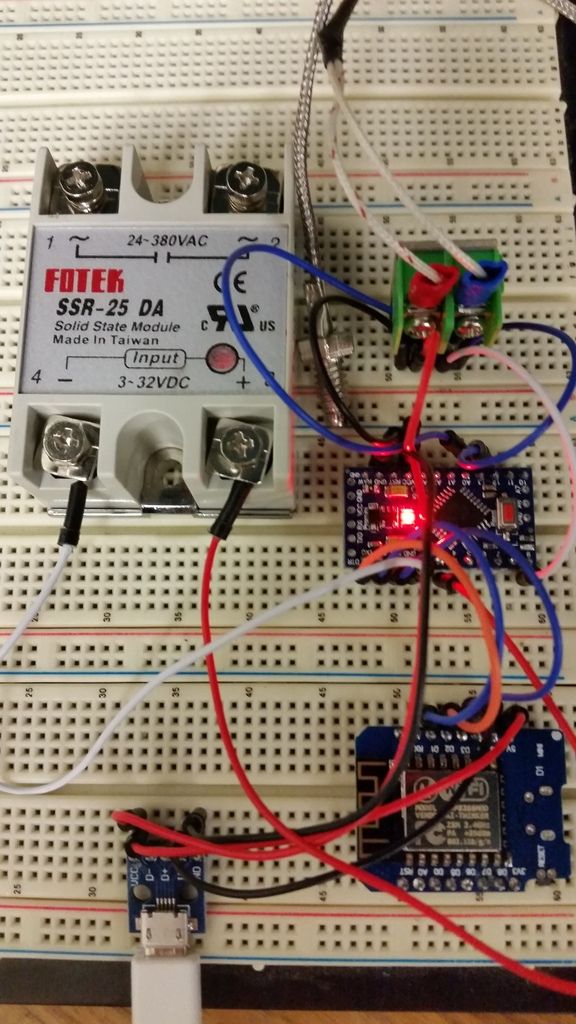 And a screenshot of the interface on my phone: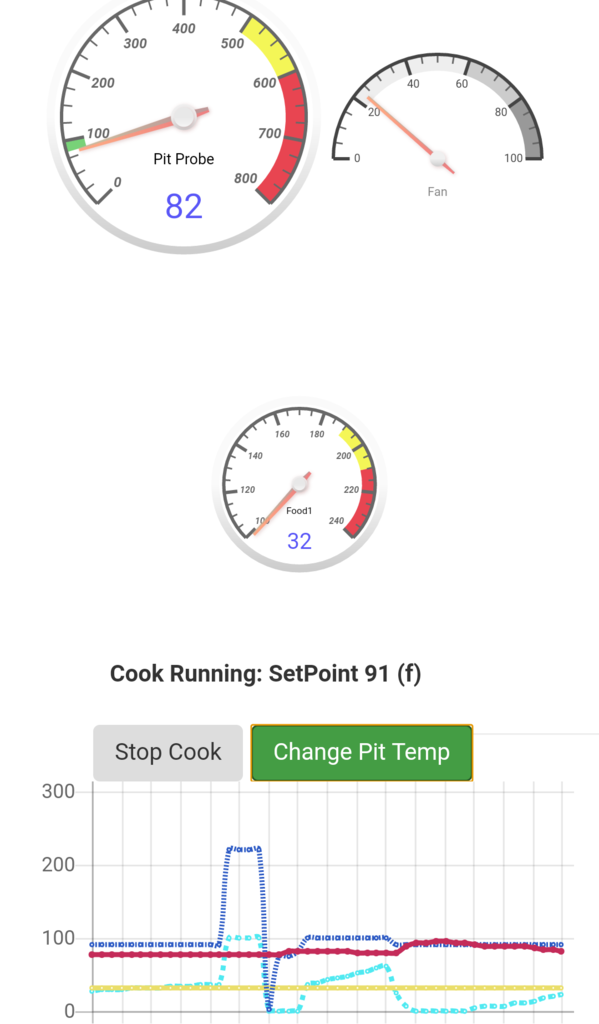 My plan is to mount the solid state relay to the smoker and use a 1/8" headphone style jack to connect it to the controller. All thermocouples will be able to be unplugged via surface mount mini connectors and the controller itself will be powered via a standard micro usb phone charger.
Now that everything works on the board the next challenge will be to mount everything in a box. I'll post more on that soon.
To be continued....